Sprinkler Pipe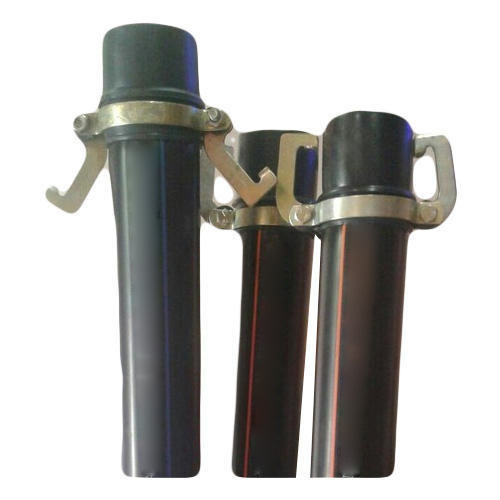 Sprinkler Pipe
Price And Quantity
Product Specifications
2.5 kg/cm3 or 3.2 kg/cm2 kgf/cm2

Agriculture, Farmhouse, Industrial
63 mm to 110 mm Millimeter (mm)
Product Description
We have been a prominent manufacturer of Sprinkler Pipe in the market. It is available in numerous sizes and designs and installed at lawns, gardens, farms and other such places for sprinkling water. This is robustly made using qualitative raw material and progressive machinery under the vigilance of our professionals at our unit. HDPE Sprinkler Pipe goes through variegated quality checks to make sure that it stands high on finishing, quality, effective usage, corrosion resistance, strength, dimensional accuracy and easy installation.
Benefits of Using This Pipe
1. There are many benefits of using sprinkler pipe in your residential or commercial space, some of them are mentioned below:
2. The pipe used in the sprinkler system is designed to prevent wastage of water and therefore ensures optimum use of water.
3. The pipe forms an important part of the sprinkler system which can be either laid on the soil surface or installed underground.
4. The system maintains the balance of soil and water.
5. It can be applied to all kinds of grounds, from sloping lands to fields.
Sprinkler Pipe Specifications:
1. Pressure: 2.5 kg/cm3 or 3.2 kg/cm2
2. Material: HDPE
3. Length: 6 Meter
4. Diameter: 63 mm to 110 mm
5. Available Connection Type: Male And Female
6. Color: Black
FAQ:
1. What are sprinkler pipes?
Ans: Sprinkler pipes are a network of pipes that carry water or other fire-extinguishing agents to fire sprinkler heads. These pipes are a crucial part of fire protection systems, as they deliver the necessary suppression material to the affected area in the event of a fire.
2. What materials are commonly used for sprinkler pipes?
Ans: Common materials for sprinkler pipes include steel, copper, and plastic (such as CPVC or PEX). Steel pipes are typically used in commercial and industrial settings due to their durability and fire resistance. Copper pipes offer corrosion resistance and are often used in smaller commercial or residential applications. Plastic pipes are often chosen for their cost-effectiveness and ease of installation.
3. What is the purpose of sprinkler pipes?
Ans: The primary purpose of sprinkler pipes is to transport water or fire suppressants from a water supply to the sprinkler heads located throughout a building. When a fire is detected, the heat activates the sprinkler heads, causing them to release water or other extinguishing agents to control or suppress the fire.
4. How are sprinkler pipes installed?
Ans: Sprinkler pipes are installed strategically throughout a building, often in concealed spaces such as ceilings or behind walls. The layout and installation process can vary based on the building's design, occupancy, and fire safety requirements. Pipes are connected to a reliable water source, such as a municipal water supply or a dedicated fire water storage tank.
5. Do sprinkler pipes require maintenance?
Ans: Yes, sprinkler pipes require regular maintenance to ensure their proper functioning. Routine inspections, testing, and maintenance are essential to identify and address any issues that could affect the performance of the system. This includes checking for leaks, corrosion, and blockages in the pipes.
6. Can sprinkler pipes freeze and burst?
Ans: Yes, in colder climates or unheated areas, sprinkler pipes can freeze and burst if proper precautions are not taken. To prevent freezing, insulation and heat tracing are often used to keep the pipes at a temperature above freezing.
7. Can sprinkler pipes be used for other purposes?
Ans: While sprinkler pipes are primarily designed for fire protection, they can sometimes be repurposed for other applications, such as plumbing or HVAC systems. However, it's essential to consider the potential impact on fire protection system integrity before making any modifications.
8. Are there regulations and standards for sprinkler pipe installation?
Ans: Yes, there are industry standards and regulations that dictate the design, installation, and maintenance of sprinkler systems. These standards are established to ensure the safety and effectiveness of fire protection systems. In the United States, for example, the National Fire Protection Association (NFPA) develops codes and standards related to sprinkler systems, including NFPA 13 for installation of sprinkler systems.
9. How do I choose the right type of sprinkler pipes for my building?
Ans: Choosing the right type of sprinkler pipes depends on factors such as building occupancy, local regulations, climate, and budget. It's advisable to work with experienced fire protection professionals who can assess your specific needs and recommend appropriate materials and designs.